A custom body by Herrin on an M2 Freightliner
This truck looks even better in person.
Here is Mike and Pat McFall's Volvo 770. The bed is a varient of mine, with additional "drop-in" storage boxes between the frame rails. It also has a short cargo plate between the cab and the body and the tail treatment is slightly different, incorporating a step all around the tail. My step is only in the hitch area. I did not add the additional drop-in storage boxes because I intend to carry a motorcycle. I also wanted a longer trough to give me the option of placing the hitch in different locations. Mike's Advanced Air hitch is dropped between the frame rails, giving him a 46" hitch plate height. Our hitch plate height is 50". In the pictures it may appear the bed color does not match. It is the lighting - the paint matches the body color.
Mike McFall's 770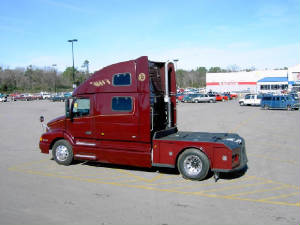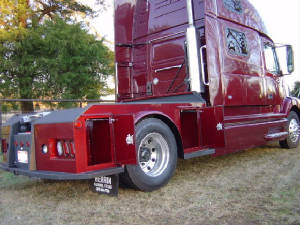 This Volvo 610 belongs to Jim and Sherry Cox. The body incorporates a headache rack that hides the stacks. Note it is rearward of the vertical cab fairings. This leaves 14 inches of available space to incorporate storage into the headache rack if the stacks were converted to weedburners. (This body does not have headache rack storage.) Bringing the headache rack out behind the cab fairings looks OK to me. If you don't need to carry deck cargo, then this might be a good solution for integrating a vertical storage cabinet in the body.
Note the headache rack behind fairings/stacks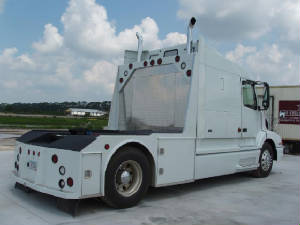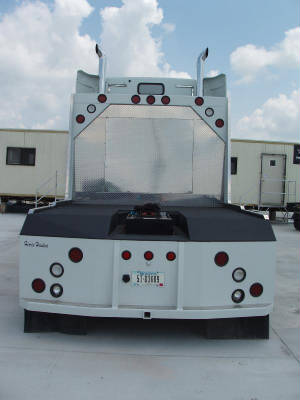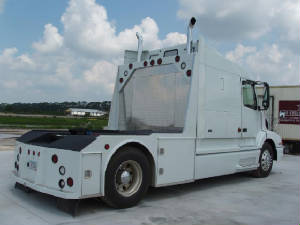 The next tractor belongs to Richard and Dianna Lafferty. It is a Volvo 770 that was originally red. They had it painted white, and a body built by Larry Herrin. Note the drom cabinet. Lots of storage.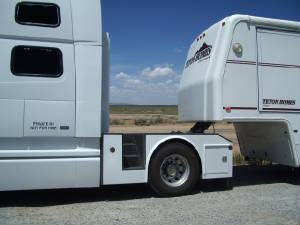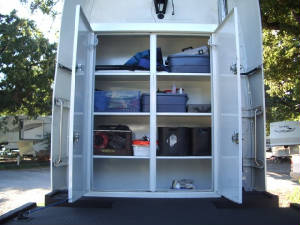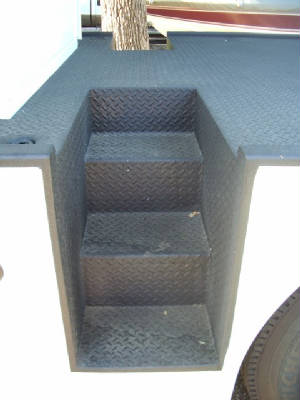 C 4500 Body by Herrin Welding Services